A Bluetooth headphone adapter is an easy solution to help update your older devices that may not support Bluetooth. For example, if you have an old favorite pair of wired headphones, you may need to get a Bluetooth headphone adapter in order to use them with a new smartphone that lacks a headphone jack.
These adapters are also a wise investment for Nintendo Switch owners, since the console doesn't have Bluetooth. Plus, if you have a car stereo or home theater system that isn't Bluetooth-enabled, you may also want to consider shopping one of these picks to make all of your devices more compatible.
Be sure to take a look at our extensive coverage on wireless headphones, and we've also reviewed wireless earbuds, sports headphones, and even cheap earphones for folks on a budget.
1-

Twelve South AirFly Pro
BEST OVERALL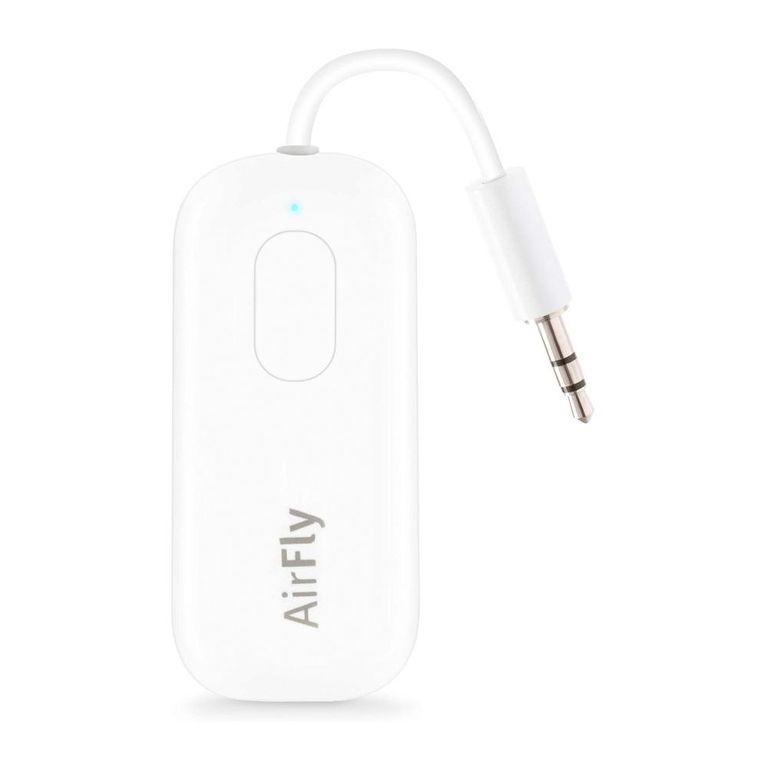 The AirFly Pro is the gold standard Bluetooth adapter. It has an integrated 3.5-millimeter cable that you can plug into an in-flight entertainment system, a piece of gym equipment, or a game console to use your wireless earbuds so that folks around you can't hear whatever you're watching or listening to.
The device is easy to use and it even allows two users to pair their headphones to it, including AirPods. The AirFly offers an impressive 16-hour battery life, a 33-foot range, plus, it supports Bluetooth 5.0 and most audio codecs. It comes with a keyring and carrying pouch so you won't lose it and its small charging cable.
 2- Bolle&Raven Wireless Bluetooth Adapter for Bose QuietComfort 25 Headphones (QC25)
BEST FOR BOSE HEADPHONES
When the Bose QuietComfort 15 and QuietComfort 25 headphones were released back in '13 and '14, they cost $300. If you don't want to drop another $350 for Bose's newest QuietComfort 35 wireless headphones II, we totally understand.
Fortunately, a company called Bolle&Raven (formerly AirMod) makes a nifty wireless Bluetooth adapter that you can clip to your existing headphones to add Bluetooth to them. Audio quality is superb (just like your Bose already are), but you don't have to deal with the annoyance of wires. 
The adapter gets roughly 8 hours of battery life, and it's compatible with the QC 15 and QC 25 headphones in white or black.
 

3- FiiO Portable High-Fidelity Bluetooth Amplifier-BTR3
MOST DURABLE
The BTR3 offers a premium build thanks to its full metal housing, an impressive 11 hours of battery life, and its support of every wireless audio codec available today. Its backside has a spring clip for attaching it to your clothes, or you can use it with an included lanyard.
It even has a noise-canceling microphone on board for taking calls, or asking Siri a question. You can expect 60 feet of wireless range with the BTR3. We think it's the perfect balance between price, performance, and design. Its only downside? It doesn't support the latest Bluetooth 5.0 version, so its connection isn't as reliable as other options.
4- FiiO μBTR Bluetooth Receiver
A GREAT RECEIVER ON THE CHEAP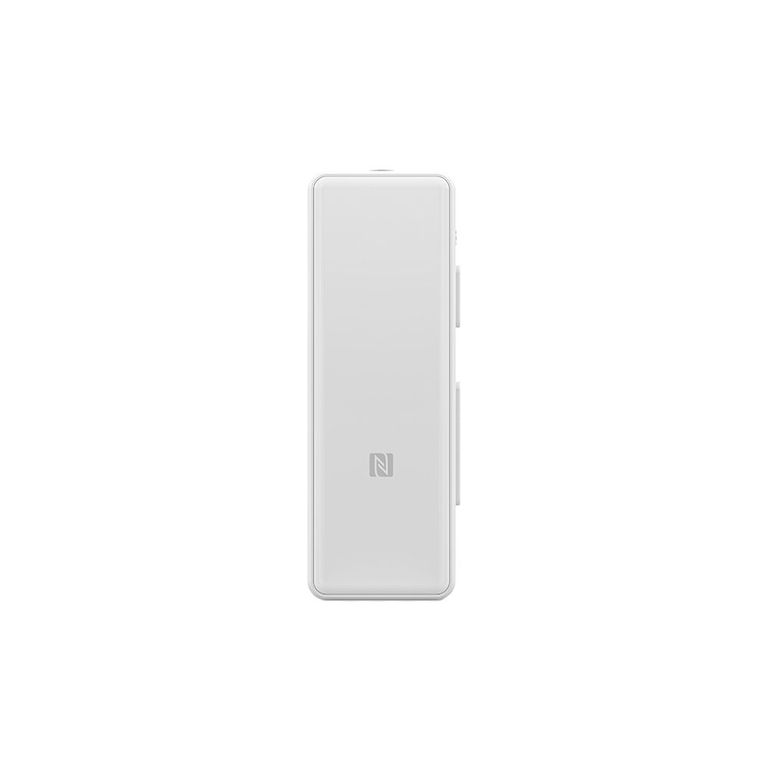 Although there are some Bluetooth receivers on Amazon for as little as $15, we've found that they are unreliable, have cheap-feeling plastic bodies, and weak wireless ranges. The FiiO μBTR doesn't suffer these shortcomings. Really, its only downside is that it doesn't support the latest Bluetooth 5.0 spec, but that shouldn't matter for most users.
You get over 8 hours of battery life, and it sounds almost as good as a hardwired connection. It charges quickly, has a microphone, and is lightweight but durable.
A reviewer at Headfonia described the µBTR as "close to flawless," adding that it has an attention to detail rarely seen in an $80 product, let alone a $20 one. We couldn't agree more.
5- FiiO BTR5 Flagship Portable High-Fidelity Bluetooth Amplifier
BEST FOR AUDIOPHILES
If sound quality is extremely important for you, and you're willing to drop a hundred bucks on an audio adapter, the FiiO BTR5 is without a doubt the best one you can buy. We recommend it for audiophiles who previously invested a lot of money in a pair of wired headphones that don't support Bluetooth.
We like that it can be remotely controlled through an app to adjust settings. It's one of the few adapters that has jacks for both 3.5- and 2.5-millimeter connections. Like other more affordable options, it too has a built-in microphone and a simple design. It includes a case that has a clip on it.
Where it really stands out is in its impeccable sound quality. You'll be shocked at how well the BTR5 sounds. In fact, it sounds just as good as a wired source, maybe even better. So, if you're looking for the very best listening experience and are willing to pay for it, you won't be disappointed.
6- TaoTronics Bluetooth 5.0 Transmitter and Receiver
BEST FOR SHARING
The TaoTronics Bluetooth receiver has a "Dual Link" mode which lets you pair two pairs of headphones to it so two people can listen to the audio from your device simultaneously. The Bluetooth 5.0 accessory can act as a transmitter or a receiver. It has a 33-foot range, can be used while recharging, and is small enough to pocket. It's backed by an 18-month warranty.
7- Creative BT-W3 Bluetooth 5.0 USB-C Audio Transmitter
BEST FOR PLAYSTATION 4
Creative's Bluetooth transmitter includes a separate analog microphone to enable in-game voice chat while it streams your game audio to your headphones wirelessly. That way you can chat with your teammates or competitors while you game online.
It's a good option for Nintendo Switch or PlayStation 4 owners, but also works well with laptops and other devices. The device is powered by USB-C, so you can plug it directly into your device. It also supports most Bluetooth codecs.
8- TaoTronics Bluetooth AUX Adapter
BEST FOR VEHICLES
If you have an older car that doesn't have Bluetooth and you're sick of passing the aux cord, consider upgrading to this adapter. It will automatically reconnect to the last paired device as soon as you turn your vehicle on. It has microphones with noise-canceling tech for hands-free calling, and it offers 15 hours of battery life. 
Fortunately, it has an auto-shutoff feature, meaning that it'll power itself off after you make it to your destination.
9- Genki Bluetooth Adapter for Nintendo Switch
BEST FOR NINTENDO SWITCH
Annoyingly enough, the Nintendo Switch does not have built-in Bluetooth. So, if you want to use headphones or a gaming headset while you game on the go, you'll need to plug them into its built-in 3.5-millimeter jack. This brilliant product bridges the gap and brings Bluetooth to the Switch.
It plugs into the USB-C port at the bottom of your console, doesn't require recharging, and can also be used while your Switch is docked. Our favorite feature about it is that it has a USB-C port that supports USB PD passthrough charging, so you can still charge your Nintendo Switch while you're using it. It also comes with a microphone for voice chatting.