It has been a doozy of a year in the world of phones with companies across the globe suffering supply chain issues, delayed launch events and numerous other issues resulting from the Covid pandemic.
The increased choice is a boon for consumers with there now being a handset bespoke made for pretty much every type of user you can think of. These include everything giant screen gaming phones for avid CoD players to some of the most advanced camera phones we've ever tested.
We've also seen a number of great flagship features like 5G connectivity and fast refresh rate displays finally start trickling down into the mid and lower end of the phone market, which is great news for buyers on a budget.
Best phone: iPhone 12 Pro/Pro Max
Best for fast charging: Oppo Find X2 Pro
Best all-round iPhone: iPhone 12/iPhone 12 mini
Best Android: Samsung Galaxy S20/S20 Plus
Best display: OnePlus 8 Pro
Best for performance: OnePlus 8T
Best Google phone: Pixel 5
Best value 5G: Realme X50 5G
Best value iPhone: iPhone SE 2
Best value Samsung: Samsung Galaxy S20 FE
Best looking mid-ranger: Motorola Edge
Best big phone: Samsung Galaxy Note 20 Ultra
Best for clean software: Google Pixel 4a
Best camera: Huawei P40 Pro Plus
Best budget Android: Moto G8
Best budget gaming phone: OnePlus Nord  
Of course, cutting-edge smartphones are announced throughout the year, so this list could change with any new phone release. Make sure to bookmark this page and check back again before you settle on your next upgrade, to avoid missing out on the latest and greatest the phone world has to offer. Apple's annual iPhone 12 and iPhone 12 Pro announcement is just around the corner, and could very well knock one of these handsets off its pedestal. As of right now, the phones in this list are the absolute best this year has to offer. Keep reading to find out more.
---
1. iPhone 12 Pro and Pro Max
Great camera and far improved design 
Pros:
Versatile camera
Lovely design
Accurate screen
Cons:
No 90/120Hz
No charger included
You need to buy the bigger phone for the better camera
The iPhone 12 Pro isn't quite the upgrade the iPhone 12 is, however, it stands as a seriously enticing proposition if you're after the very best of what iOS has to offer. It comes in two sizes, with the Max version packing a huge 6.7-inch display.
The big upgrades over the cheaper iPhone 12 model include an extra camera for improved zoomed shots, a more swish stainless steel design, 128GB storage as standard and a bit more RAM. The battery life on the smaller model anyway, general performance, display resolution and size are all the same.
If you want the best battery, you'll want to go for the Max version.
You've also got a LiDAR sensor on the back, which improves low-light performance in the camera and seriously aids focussing.
If you have fond memories of the iPhone 5 or iPhone 4, then you'll be a fan of the design here. The sides are flat, as is the display, and it feels exception to hold. The front is meant to be tougher, thanks to the Ceramic Shield.
The triple camera is reliable and captures excellent snaps with the larger sensor on the Max aiding low-light performance. We would have liked a 120Hz screen, though.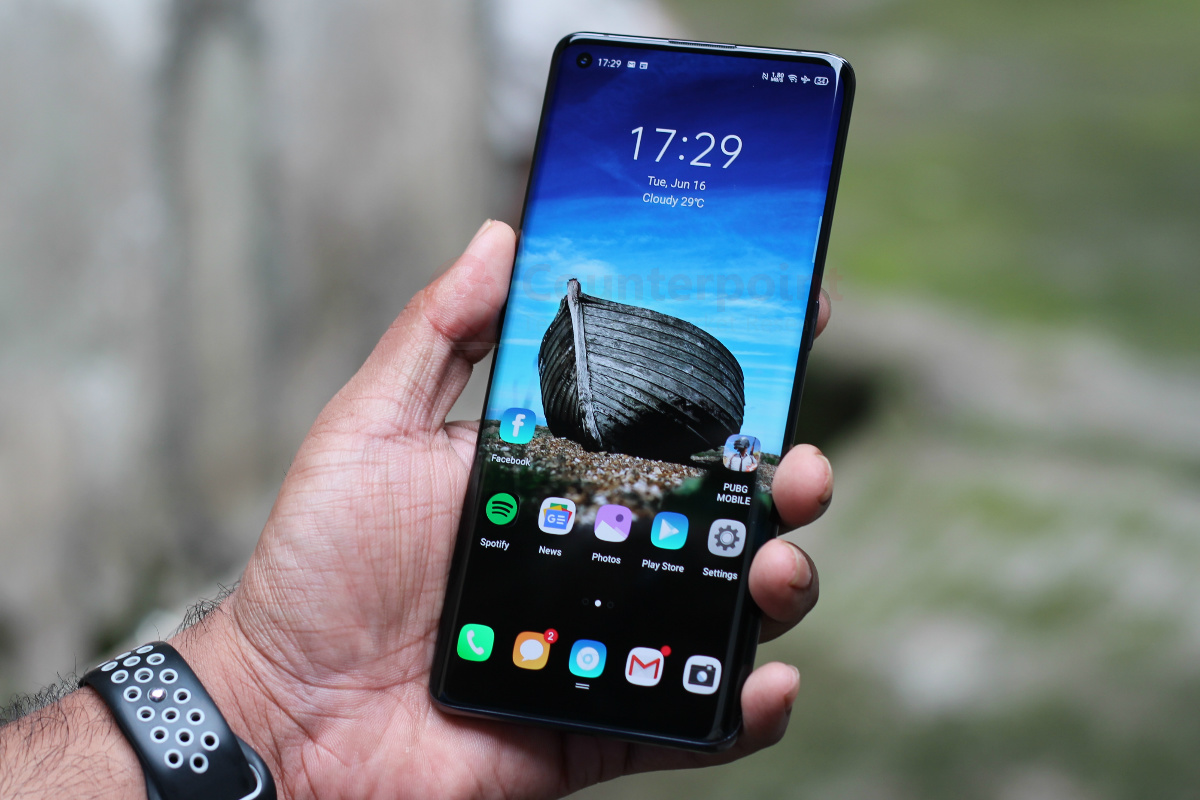 2. Oppo Find X2 Pro
The Oppo Find X2 Pro is the king of 2020 
Pros:
Cheaper than the pro
Sharp, punchy screen
Class-leading fast charging
Cons:
Expensive
No wireless charging
The Oppo Find X2 Pro is a real rival to Samsung Galaxy S20 series for the crown of best Android phone and it's currently the best phone you can buy. 
The Snapdragon 865 makes for a seriously fast phone, while the 120Hz OLED is a joy to behold. Battery life is excellent too and the ridiculously fast 65w charging makes up for the lack of Qi wireless charging. There's 5G too.
The screen on the Find X2 Pro is a stand-out feature and the phone's primary camera featuring Sony's new 12-bit IMX689 sensor with a large 1/1.4" size and 1.12-micron pixels. The 13MP periscope camera offers up a 10x hybrid zoom and a 60x digital zoom.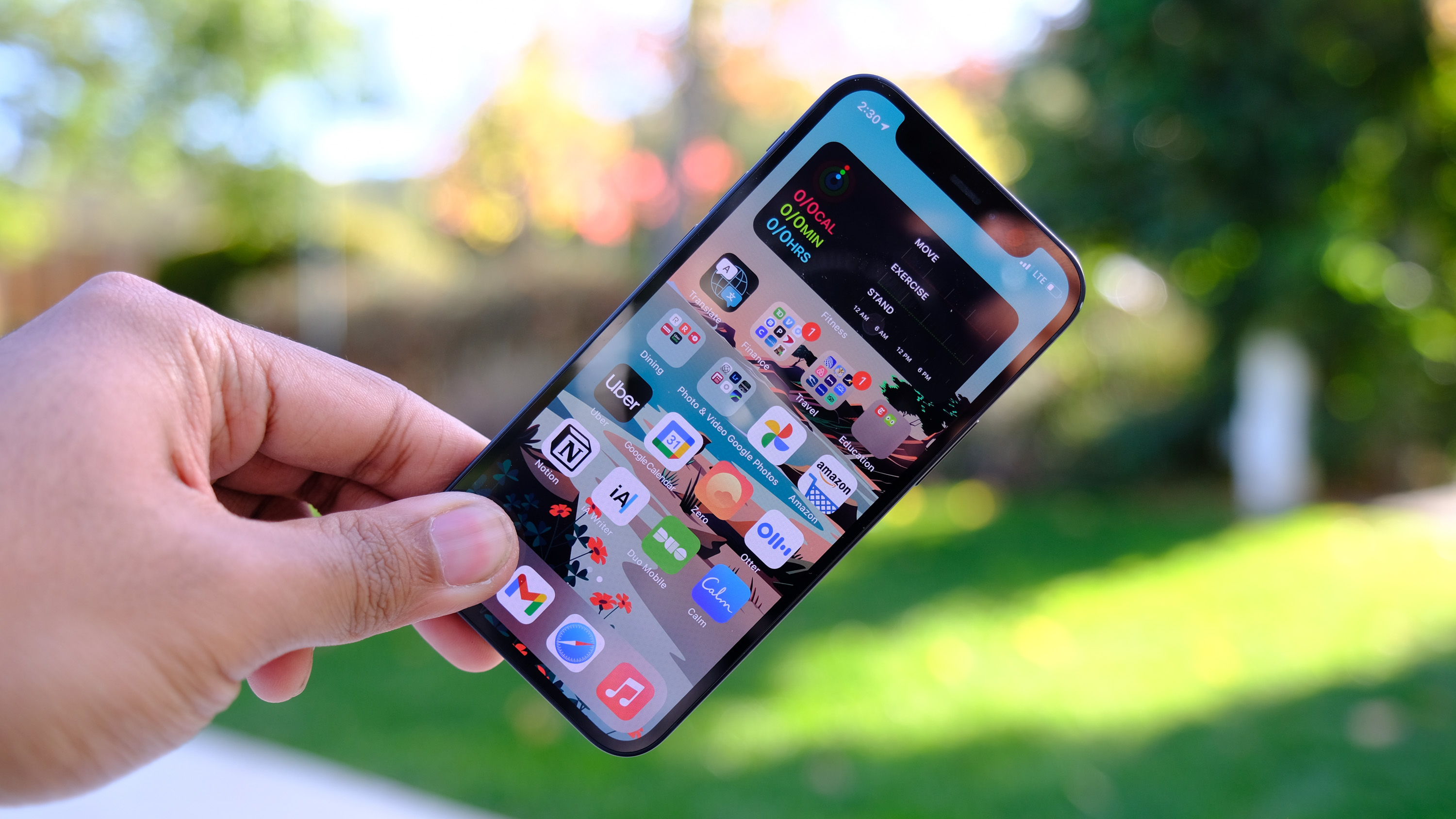 3. iPhone 12/iPhone 12 mini
The iPhone 12 is a big update 
Pros:
Great OLED display
Great camera
Lovely new design
Two sizes without many sacrifices
Cons:
No 90/120Hz screen
There's still a big notch
Battery life on the mini isn't as good
Both iPhone 12 and iPhone 12 mini are great devices and a notable update over the iPhone 11 in a number of important ways. If you've held off upgrading for a few years there's a lot here to get you invested.
Highlights include an OLED screen that's far more akin to the one on the Pro models, with a higher resolution than the iPhone 11 and proper HDR support to give movies a real pop of colour. It's still 60Hz though, which is a shame as there are so many fast refresh rate panels on competing Android phones.
The design this year is new and it feels like a long time since we had an iPhone that looked, well, different. The iPhone 12 has a strong resemblance to the recent iPad Air, with flat slides and a more boxy look. It comes in a variety of colours, including a nice green you can see above, and has a glossy glass back.
There's tougher Ceramic Shield glass on the front, IP68 water resistance and a new MagSafe accessory range that uses magnets to attach cases and chargers. Battery life is good at around a day of heavy use – however you will need to provide your own charger as you'll only find a cable in the box.
On the back there are two cameras. The ultra wide is similar to the one on the iPhone 11 but with the added software benefit of Night Mode. The main 12MP sensor is now faster thanks to a wider f/1.6 lens and it performs better in tough situations. There's HDR video too, which looks very colourful on the iPhone 12's 6.1-inch screen and the mini's 5.4-inch display. You've got 5G and the new A14 Bionic chipset inside, along with 64GB,128GB and 256GB storage options. 
We've combined both these devices together as they're basically the same, but in two different sizes. The iPhone 12 mini suffers from worse battery though, but if you've been after a smaller phone for ages the mini is for you.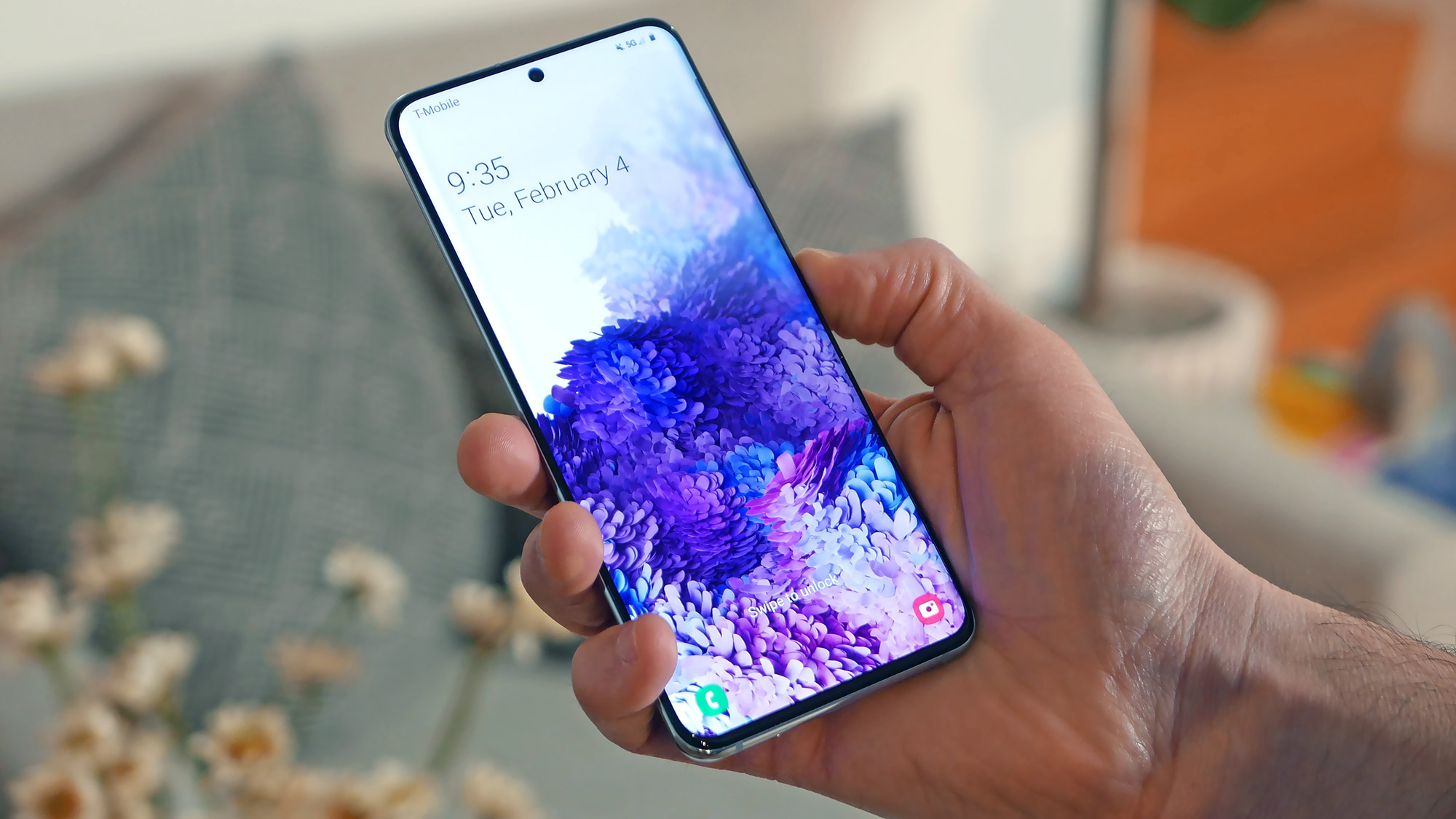 4. Samsung Galaxy S20 Plus
The best Android phone you can buy right now
Pros:
Nice design
Great screen
Strong performance
Good battery
Cons:
Ugly UI
8K video recording is pointless
The Samsung Galaxy S20 and S20 Plus are the best Android phones you can buy right now. They are both smaller than the Ultra, making them easier to handle, but still have large immersive screens that boasts an incredible refresh rate and an enviable sharpness.
The cameras are also sharp and detailed and have less of the lurid post-processing that affected previous Samsung flagships.
The punchy performance was of a very high standard, only coming up short in comparison to the iPhone 11 Pro, and could handle everything we threw at it (though it broke a sweat undertaking 8K video recording).
Battery life is generally impressive and will comfortably last you a full day – unless, that is, you opt for the high 120Hz refresh rate, which takes a big bite out of the battery. In this case, even a moderate usage will see you needing a top-up before the end of the day.
One of the few things we didn't take much of a shine to was Samsung's user interface, which is quite a departure from standard Android and might take you some time to get used to.

5. OnePlus 8 Pro
The first OnePlus flagship that doesn't compromise
Pros:
Gorgeous 120Hz display
Improved ultra wide camera
Clean software
Very fast charging and now wireless charging too
Cons:
The OnePlus 8T is set to appear in the very near future. But for now the OnePlus 8 Pro is the best handset you can get from the Chinese upstart. The OnePlus 8 Pro, was the first phone from the firm to truly qualify as a flagship. This is because, unlike past OnePlus phones, there aren't any obvious sacrifices here – Qi charging and an IP68 rating finally make an appearance – which makes the £799 price even more impressive. Yes, it is pricier than OnePlus phones of years gone, but it's far more affordable than similar devices from the likes of Samsung and Oppo.
The star of the show is the 6.78-inch OLED display, which has a 120Hz refresh rate and a QHD+ resolution. It's smooth, seriously bright and oh so crisp. However, if you want to get the most from that 4510mAh battery, then you'll probably want to keep the resolution at FHD+.
Like all OnePlus phones, the 8 Pro has all the latest tech inside. There's a 5G-capable Snapdragon 865 running the show, with either 8 or 12GB RAM. Four cameras sit on the back, including a very impressive 48-megapixel ultra-wide and a less impressive colour filter sensor, while a 16-megapixel version sits on the front. There's no mechanical pop-up this time around, with the selfie camera housed in a very small cutout.
Warp Charge remains to get you to 50% charge in about 30 minutes, and there's Warp Charge wireless too, which is just as fast if you're using the brand's own wireless pad.
Our biggest criticism is the slightly uncomfortable body, which isn't helped by the overly sloping display and massive overall footprint. Bunging on a case does help the situation somewhat.
With a price that's lower than the competition and just about every feature going, the OnePlus 8 Pro deserves its spot as one of the best phones available right now.

6. OnePlus 8T
Great fast charging, excellent performance and a lovely screen 
Pros:
Ace 120Hz screen
Fast, so fast
Good software
Cons:
No IP rating
No wireless charging
Slightly poor secondary cameras
With its gorgeous 120Hz display, top-of-the-line Snapdragon 865 chipset, 5G support and a price-tag that's well below much of the competition, the OnePlus 8T is easy to recommend.
Without a Pro version of the 8T, this is the OnePlus 'flagship' for the latter part of 2020 and it really shines. If you're big into specs, high-end performance and lots of features then you'll feel right at home.
But be warned, this is a large phone, with a hefty 6.55-inch panel covering the front. There's a metal rim adding rigidity and a smooth back that does a good job at ensuring fingerprints aren't an issue. The 8T comes in a silver and a light green colour, with the former having a matte finish on the back.
Alongside the high-end chipset, there's 8GB or 12GB of RAM and 128 or 256GB of storage. Inside, there's a 4500mAh battery that can fully charge in about 40 minutes and four rear cameras.
You do miss out on a few bits though, including an IP rating and wireless charging.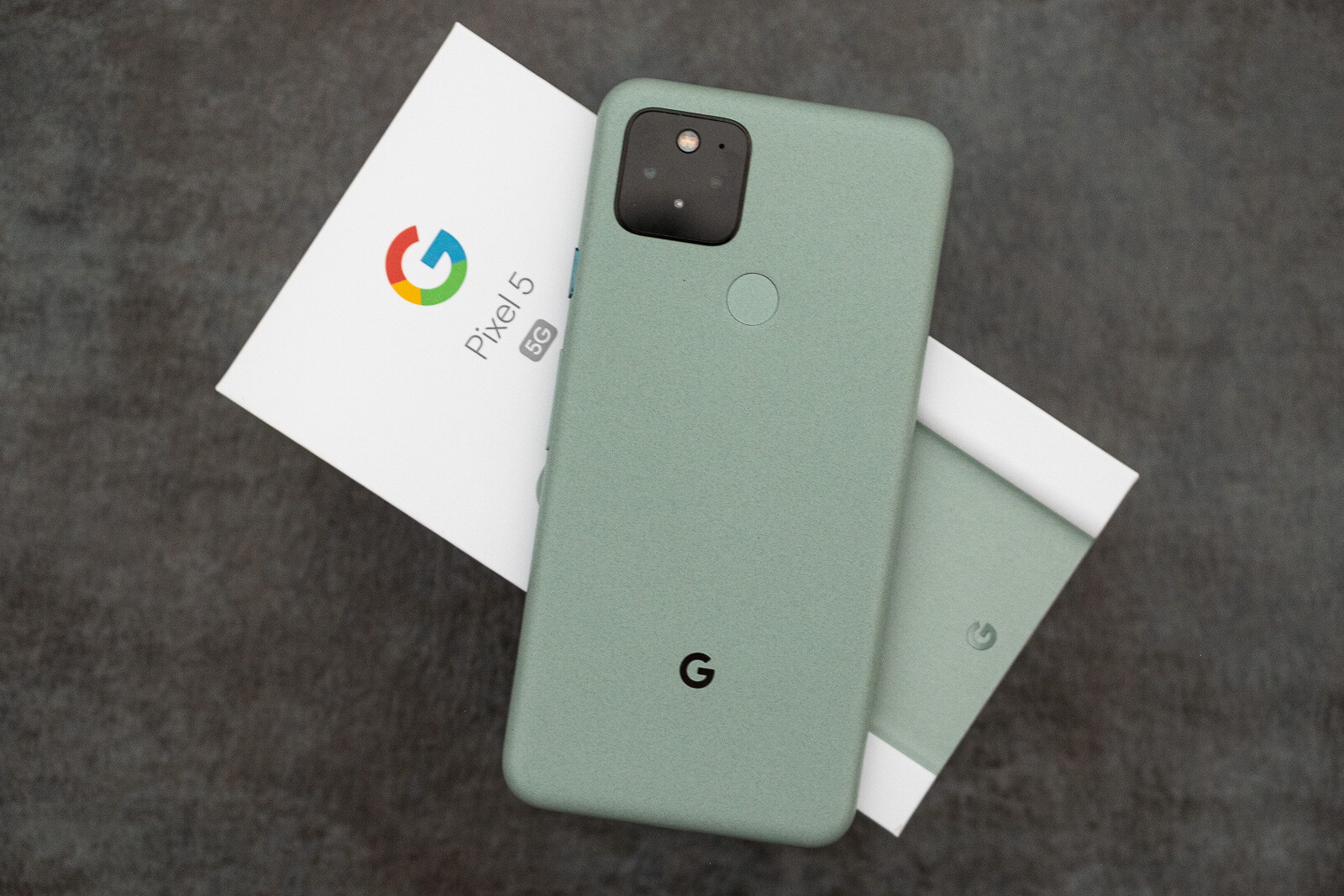 7. Pixel 5
A simpler flagship from Google 
Pros:
Great camera
Improved video
Nice display
Strong software
Cons:
No XL option
Slightly dull design
The Pixel 5 is on paper Google's flagship, but it's positioning itself as a more moderate device. There's no high-end chipset, no flashy design and fewer cameras than much of the competition. But a lower price and a smaller body should still make this an appealing choice for many.
While it's not running an 8-series Snapdragon chip, the Pixel 5 has plenty of power for day-to-day tasks and the healthy 8GB RAM helps the multitasking remain smooth. There's 128GB storage, a clean version of Android with lots of exclusive features (a clever voice recorder being one) and a 4000mAh battery that leads to far better endurance than the Pixel 4. You've also got a nice 90Hz OLED screen.
Handy features like wireless charging, an IP rating and metal body also make the cut.
The camera is the star though. The 12MP main shooter snaps ace pictures and it can handle even tough conditions with ease. There's a 16MP ultra wide camera too, which is nice for landscapes. Video can be captured up to 4k 60fps and there's a selection of new stabilisation modes, too.
8. Realme X50 5G
A stunning price for a 5G workhorse
Pros:
Very good battery life

Low price for a 5G phone

Well-specced 120Hz screen

Strong general and gaming performance

Surprisingly capable main camera, even at night

Glass back
Cons: 
Two of the rear cameras are filler

No headphone jack
From OnePlus to Google's budget range, good phones are now cheap and cheap phones (with some exceptions) are good. The Realme X50 5G might be the epitome of this notion.
For under £300, the X50 5G packs in the latest connectivity tech, an impressive 120Hz screen, strong performance and great battery life. Realme has managed to plug a ton of flagship features into a phone that, in some cases, is a quarter of the price.
You may think the design is an area that's had to be sacrificed to save some dosh but, with the X50 5G, you get a curved glass back and an overall phone build that fits in perfectly well with higher-priced modern smartphones.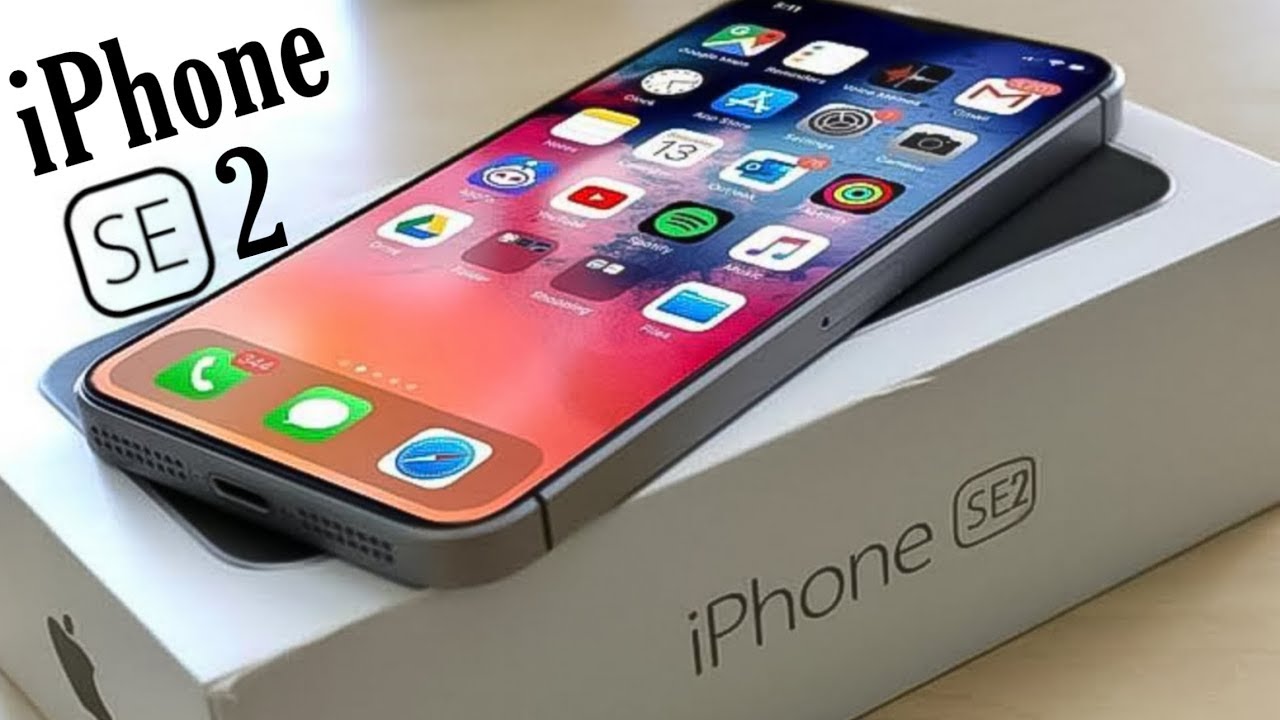 9. iPhone SE 2 (2020)
Best value iPhone 
Pros:
Oh so fast
Great daylight camera
All the benefits of iOS
Fast ToucID sensor
Cons:
Boring design
Battery life merely 'OK'
Yes, the iPhone SE 2 looks familiar. It borrows design from phones that have been around for years and it does look a tad old-fashioned compared to the mid-range Android options that have ditched the bezel. Yet, it's a real pleasure to use.
It uses the same chipset as the iPhone 11 and as a result, is very fast. It packs a great camera too, and extras like Qi wireless charging, a very colour accurate screen and an IP67 rating.
If you're after an iPhone experience without breaking the bank then this is the best choice around.
10. Samsung Galaxy S20 FE
A spec beast 
Pros:
Great display
120Hz
Nice colours
Cons:
The Samsung Galaxy S20 FE is a more affordable entry in the brand's flagship range, however it does a good job balancing its performance and feature set to make a really attractive proposition.
Headline features include a really nice 1080p 120Hz 6.5-inch display without annoying curved sides. There's also 5G support, a beefy 4500mAh battery, expandable storage and three cameras on the back to give you varied shots. Samsung has also decided against ditching features like Qi charging and an IP rating for water resistance.
There are two models of the S20 FE available. One packs the Exynos 990 chipset and tops out at 4G, while the one we reviewed is 5G and packs the superior Snapdragon 865 chipset. We found the battery life here was far superior, so if you can spare the extra cash it's the one worth plumping for.
Even though there is plastic on the back rather than glass, the S20 FE still looks good and feels enough like a high-end device. We're also big fans of the wide variety of colours, which include red, blue and a minty green.
11. Motorola Edge
Best for curves
Pros:
5G
Great display
Lovely, sleek design
Cons:
The curved screen can be annoying
It's important not to get the Motorola Edge confused with the Motorola Edge Plus. While the latter is a high-end and very expensive device, the Edge is more mid-range – and all the better for it.
The Motorola Edge competes with the OnePlus 8 for best mid-range device and while OnePlus 8 just pips it, there is still a lot to like here. From the 5G chip to the OLED HDR panel, this is a phone punching above its weight. It has three good rear cameras, multi-day battery life and Motorola's clean software.
Our main issue is the curved display, which can be slightly irritating with accidental presses being very common.

12. Samsung Galaxy Note 20 Ultra
A big phone powerhouse that looks stunning and takes great photos 
Pros:
Bronze colour is really nice, and adds a matte finish

S Pen even more responsive than ever

Really good triple camera

The best looking phone around
Cons:
Battery life, on Exynos version, isn't good

Screen resolution limits are annoying
Samsung is almost carving out a market of its own with its "Ultra"-ultra-premium device. These supercharged devices come with a hefty priced tag but are loaded with the best features that Android phones have to often.
The garguant Note 20 Ultra is one of these devices, sporting a 6.9-inch 120Hz Adaptive Refresh Rate OLED display. The display is indeed big and it's gorgeous. Alongside the stunning screen. you get that ultra-premium glass sandwich design with a new Mystic Bronze colour option as well as the best processor from Exynos or Qualcomm depending on your location.
Samsung has toned the camera down a bit for the Note 20 Ultra, reducing the frankly silly 100x Space Zoom from the Galaxy S20 Ultra down to 50x. The triple camera setup provides truly impressive results.
 
13. Google Pixel 4a
Google's antidote for the £1000 smartphone – and a clean experience with a corking camera to boot
Pros:
Great camera

Refreshingly small size for an Android phone

The promise of fast updates

Nice, sharp OLED screen

Affordable
Cons:
You'll find competition with far larger spec sheets and feature lists

Some mild performance and touch latency hiccups

As well as being a Pro, the small screen might put some off
Google shook up the market with the Pixel 3a, especially in the US where mid-range Chinese offerings are much less prominent, offering a flagship quality camera and sleek UI experience for a modest price.
Now, Google is back with the Pixel 4a and, for fans of the previous model, it's good news as it's more of the same. Pixel 4a is a cracking sub-£400 phone that offers a great camera, a wonderful throwback to a more pocket-friendly size of phone and a shiny stock Android experience.
The screen isn't half bad either, with Google managed to squeeze a pleasingly sharp OLED at this low price point. Another goody is Google's promise of three years of fast updates for the Pixel 4a, meaning you'll always be on the latest and greatest that Android has to offer.
If you are looking for a more premium Google experience then the new Pixel 5 and Pixel 4a 5G have just been revealed. You can expect our full reviews soon.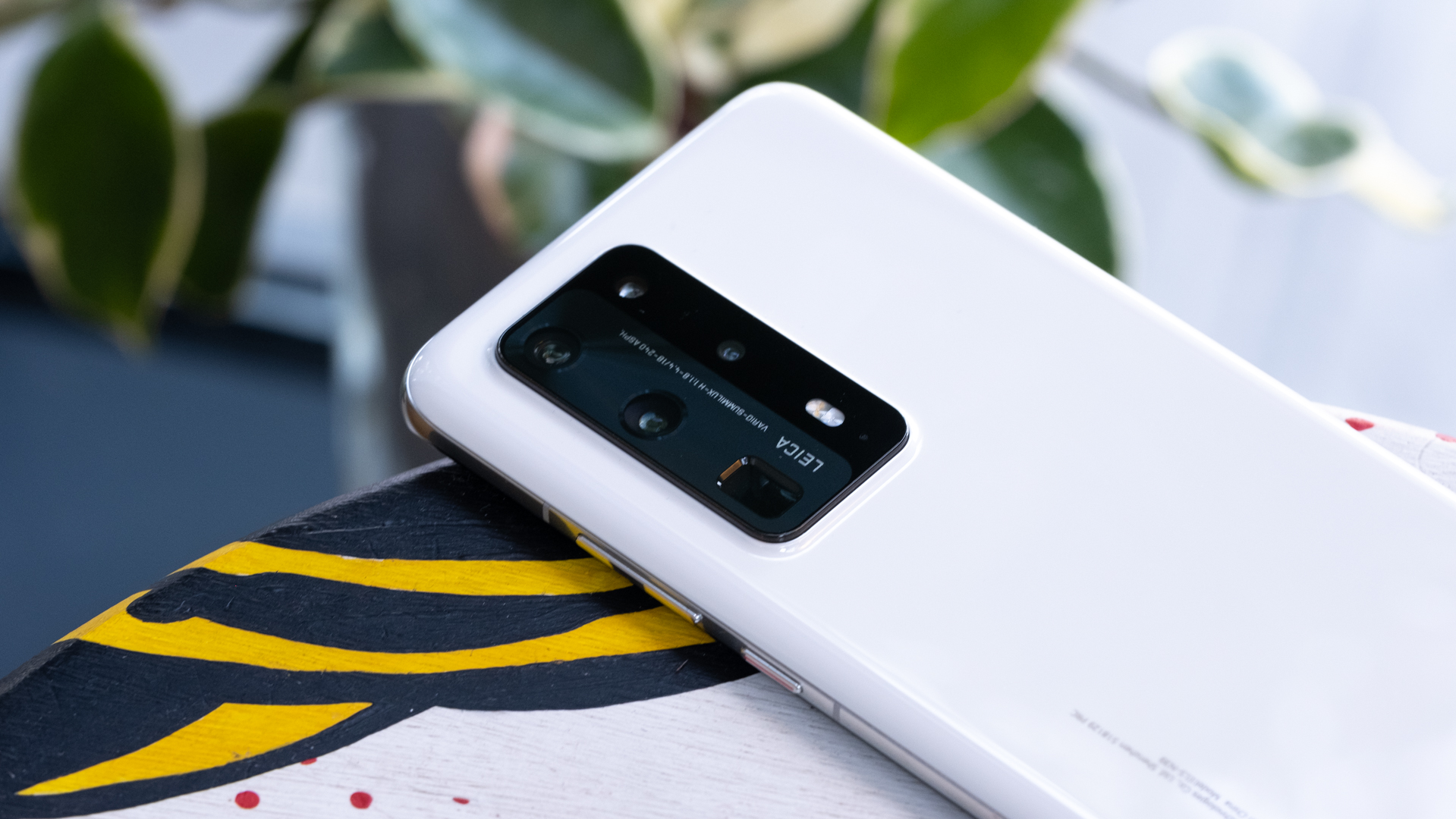 14. Huawei P40 Pro Plus
The best camera phone – with a big problem 
Pros:
The best zoom camera. Ever.
Just great pictures all around
Lovely display
Cons: 
The lack of Google and everything that comes with it
Very expensive
The Huawei P40 Pro Plus should be much higher up on this list. It should really be competing with the best of what Samsung, Apple, Oppo and OnePlus have to offer.
You won't find a better camera on any phone and the zooming capabilities here put both the Samsung Galaxy S20 Ultra and Oppo Find X2 to shame. You can really see detail on objects and animals when you're at 10x. It's a fast phone too, with the Kirin 990 chipset still competing with the best out there and offering 5G too.
You've also got a lovely screen that curves softly at the top, a sleek design and impressive battery life. Huawei remains one of the best when it comes to fast charging and you can juice up the Pro Plus very quickly.
But, and this is the reason the P40 Pro Plus is hard to recommend to absolutely everybody, the lack of Google services is a pain. Huawei's done an ok job so far at padding out its App Gallery and offering easy ways of downloading APKs, but while many apps still use the basic services provided by Google there will be missing spots. No Uber, no HD Netflix and no mobile payment solution are all irritants that will likely put a lot of people off.
15. Moto G8
The best cheap phone
 Pros:
Affordable
Packed with features
Nice design
Cons: 
Screen is far from the best, even for the price
A lot of the phones on this list are expensive, flagship options. If you want to a budget phone that still gets the job done impressively well then we'd suggest the Moto G8.
it has a good camera, clean software and fast performance. It looks nice too and is a comfortable, if large, phone to grip on to. Our biggest qualm is the display, which could use a few more pixels to really help it pop.
16. OnePlus Nord
Best budget gaming phone 
Pros:
Great quality OLED panel
Very quick charging
Lovely version of Android
Nice, ergonomic design
5G and great performance
Cons: 
Screen seems to mark very easily
Secondary cameras are pretty much useless
The Nord might not be marketed as a gaming handset, but the OnePlus mid-ranger is packed full of features that lend themselves to mobile gamers. The Snapdragon 765G SoC offers great performance despite not being a flagship chip, and the 90Hz OLED display ensures the image is both sharp and fluid. Multitasking is further boosted by the 8GB and 12GB RAM options.
While there are better camera's on the market, fast charging, 5G compatability and an affordable price make the Nord a budget smartphone to be reckoned with.
---
How do we select the best smartphones?
Every handset on this list has been reviewed thoroughly using the same combination of real-world use cases and repeatable benchmark tests.
This means that we test everything, from battery life and processor performance, during the full range of everyday tasks, right up to call quality and screen calibration. Most importantly, we take these phones out and use them as our own over an extended period of time, living with them to learn their quirks and discover any hidden treasures.