Mobile app development technologies are changing at a fast pace and are certainly among the actively growing sectors in the global app market. Technologies and trends indeed drive mobile application development.
Today businesses have a lot to gain from the latest mobile app trends. This is all because of technology's ability to boost mobile applications.
If you are thinking of developing a mobile app or to build an amazing app startup the first question that comes into mind is the cost of application development. So, we have gathered a few details for you on the cost quotations:
According to industry surveys in 2019, the cost of developing a mobile app ranges from $5,000 to $500,00.
An application with a minimum set of features costs around $22,000, while the complex mobile app development cost starts at $110,000.
AppAnnie's research on the mobile market has predicted that this will be the market for mobile apps by 2022.
Ultimately an effective app development strategy involves more than just technologies and trends. Below are some of the future trends to watch out for in the app development space:
1) INTEGRATION OF INTERNET OF THINGS AND CLOUD
One of the technologies that are a buzzword in today's times is the Internet of Things. There are many ways in which IoT and Cloud can transform mobile app development.
The global Internet of Things spending is projected to be $1.1 trillion by 2023 and the market is spread in many verticals like wearables, home appliances, smart cars, etc.
IoT and Cloud-enabled mobile applications are going to become a key trend in the coming years because of their capabilities to handle redundant data and connecting multiple devices on a real-time basis.
In the future, apps need to be more advanced. They will need to speak to you, in the same way, devices built on IoT communicate. The cloud's ability to connect many things with APIs will also be essential in the future of mobile application development.
2) ARTIFICIAL INTELLIGENCE IN FUTURE MOBILE APPS
People use mobile devices for various purposes, like gaming, entertainment, etc. And expect a high level of features such as navigation, speech recognition, and natural language processing. Artificial Intelligence, in the future for all the apps, has almost everything.
Worldwide revenue from the AI market is forecasted to reach $125 billion by 2023.
In the future, most AI apps will be developed using technologies such as predictive analytics and machine learning algorithms. This will allow mobile app developers to deliver a more personalized experience in their applications, and apps will be able to perform the functions such as analyzing the user behavior and alert them about any suspicious threats and breach of information.
AI in mobile app development will help in achieving the goal of translation for conversations in real-time. The apps will be smarter and help you understand user behavior. The AI in mobile applications is changing the face of technology and will take the mobile app development to a whole new level.
The rapid growth in the use of AI technology in the sphere of mobile app development has shown that this technology can improve overall user engagement on your mobile application.
3) SWIFT THE LANGUAGE OF FUTURE MOBILE APP DEVELOPMENT
Swift programming language will play a more significant role in future mobile app development. That's why it has become part of the future mobile trends that increase app creation speed, whereas reducing overall cost.
Swift programming language is used by 5.9% of respondents worldwide to develop iOS applications and offers some ravishing features that have never been used by the developers using other native languages. The best highlighting feature of Swift is its Interactive Playgrounds with which you can make changes to any coding without recompiling and fixing errors.
Some more highlighting features of Swift programming language for mobile app development are inferred types and automated memory management. The interoperability between the Objective-C programming language and Swift is also allowed. So, developers don't need to rewrite Objective-C applications for Apple iPhones and iPads.
Moreover, Swift language undoubtedly of great significance in the mobile application development industry today and in the coming years.
4) ROLE OF AR AND VR IN THE FUTURE MOBILE APP INDUSTRY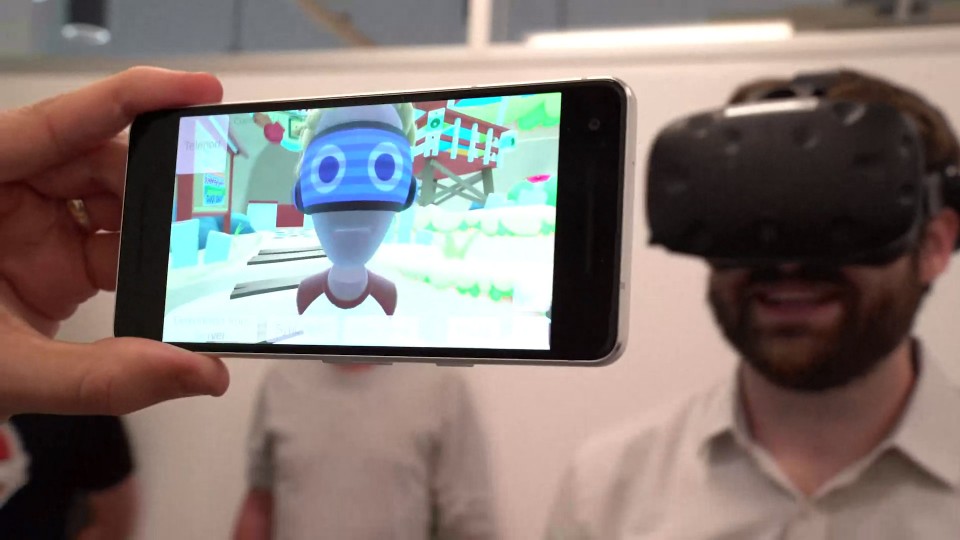 According to Statista, the AR/VR market is forecasted to reach $209 billion in 2022. In 2020 the mobile app development industry is aware of Virtual Reality (VR) and Augmented Reality (AR). These technologies will become very advanced and will be part of the great revolution in developing gaming and entertainment mobile apps.
There are various VR-based games and applications developed like Pokemon Go, Sky Siege, iOnRoad, Google Cardboard, Samsung Gear VR, and much more become a show stopper in the global gaming and entertainment industry.
So, the VR and AR technologies in mobile app development continuously enhance the performance and features at a rapid speed. In the future, both technologies will surely improve the way developers build gaming apps, travel apps, and live streaming apps.
5) CROSS-PLATFORM DEVELOPMENT FOR FUTURE APPS
The future mobile apps will be developed on cross platforms that are the apps that can be used on different mobile applications like Android, Windows, iOS, Blackberry, etc. The development of cross-platform mobile applications involves developing the original application on a native platform or in a particular environment that will then be sent to many different native platforms.
Today developers need to create apps that can run on multiple mobile devices; that's why they need cross-platforms to develop such modern apps.
Cross-Platform development tools play a vital role in the mobile application development industry. In the future, they will play a more significant role in the process and help decrease costs and increase application development speed.
Moreover, these development tools are React Native, NativeScript, Flutter, Ionic Framework, Xamarin, and more. All these tools are based on standard programming languages such as CSS, HTML, and JavaScript.
6) 5G TECHNOLOGY
Imagine the technology that can transfer millions of data packets around the world within an eye blink.
Isn't it fascinating!
According to IHSEconomics, 5G technology is going to witness a revenue-opportunity of $12.3 trillion globally. The benefits that 5G technology can offer to your app is greater speed to increase mobile app user retention, fast data transfer, lower latency, and great user experience.
As you got the sneak peek of 5G's benefits for your app, this technology will be the revolution for mobile devices. Mobile app development can take advantage of this technology in various industries like AR/VR, IoT, Smart Cities, Supply Chain, Transportation, and in each area that keeps the difference between 2 milliseconds and 20 milliseconds.
7) BLOCKCHAIN
Decentralized, Transparent, and Immutable are three words that well describe Blockchain. It is the most trending technologies that are changing the way of mobile application development.
According to a report from Nasscom in 2019, the projects built by Blockchain development companies cost over $20 billion. These stats clearly show the popularity and adoption of this revolutionary technology.
By harnessing the Blockchain with mobile app development, businesses can build highly secure applications that deliver great outcomes. Whether you want a health app, a retail app, or a  fintech application, Blockchain can be integrated with each kind of app.
8) WEARABLES
According to Statista, revenue generated by the Wearables segment is assumed to reach US$18,984 milion in 2020 and the user-base will reach about 441.5 billion.
Whether it's a Fitbit, a Galaxy Watch, or Snapchat spectacles, these IoT devices got a separate market base. Even though these devices are IoT enabled gadgets, they got different use cases.
From telling the healthcare stats to providing vital physiological information of daily life, the integration of wearable gears plays an important role. Even though we have listed IoT but wearables have separate use cases and user base.
The utilization of wearables delivers effectiveness in day-to-day tasks. And the integration of these devices with mobile app development can bring convenience in your customer's life through your app.
MUST WATCH: 10+ BEST MOBILE APP DEVELOPMENT TOOLS OF 2020
The way app development is flourishing is similar to the idea that traditional technologies have in the past. We can learn from past references to predict the future of mobile app development or what's yet to come. We can say that the future of app development will look bright and vastly different from contemporary technologies. This will make developers and businesses to do well in the future by providing quality and unique solutions to the users.
Businesses can take advantage of these trending technologies by implementing them with mobile app development. Billions of apps are available on play store, app store, and on many other platforms. To make your app stand-alone and unique, these technologies can be used.
To stand-out in this competitive space, it is important to go for a trusted development partner who can utilize these emerging technologies with appropriate skills. ValueCoders is one of the top software development company in India that offers extensive mobile application development services to global leaders. We deliver cutting-edge and customized mobility solutions for your unique business requirements.
FREQUENTLY ASKED QUESTIONS:
What are the mobile app future trends?
Answer: In this dynamic world, there are a lot of technologies that are providing significant potential in mobile application development:
IoT & Cloud
Swift
Blockchain
5G Technology
Wearables
Cross-Platform Apps
AR & VR
AI & ML
Is Swift beneficial for mobile app development?
Answer: There is no doubt that Swift is future of mobile app development. This language offers multiple benefits for application development like:
Rapid Development Process
Scalability of the Application
Safety and Performance
Interoperability with Objective-C
Automatic Memory Management
Great Community Support
In a nutshell, it is beneficial to opt Swift for your app development projects.
How AI could be beneficial for your business app?
Answer: AI can be utilized to solve problems across multiple areas. Artificial Intelligence can help businesses to boost sales,  enhance customer experience, automate work processes, detect frauds, and provides analysis capabilities.
Multiple industry verticals like automotive, financial services, health care, and supply chain have a lot to capture from AI implementations. AI can also help health care providers better tools for early diagnostics and they can further provide better services.
What are the top mobile app development companies?
Answer: These are the top 5 mobile application development companies who can implement trending technologies to your applications:
ValueCoders
PixelCrayons
Hedgehog Lab
Appinventiv
TechAhead
5 Thoughts About the Future of Mobile App Development
With over 2 billion smartphone users and 27.5 billion mobile apps downloaded, mobile development is certainly one of the innovative and actively growing sectors. In order to stay or reach the top, it is important to develop and implement a mobile strategy in business. It involves more than just a mobile-friendly website since mobile development is driven by improvements in technology, which requires businesses to have a vision for the next few years. Below are some of the trends in mobile app development.
1.IoT (Internet of Things)
Analysts predict significant changes in the IoT area in 2018. In January, Forbes published an article on how huge the Internet of Things (IoT) will be in 2018. Everything with a prefix 'smart' can be connected to IoT.
The numbers regarding IoT worth vary, but the trend stays the same- IoT has grown and will continue to grow. Taking this into consideration, it is evident that the market needs companies that can develop custom IoT applications- sensors and devices, web apps, and both B2B and B2C mobile end-user apps.
2. AI (Artificial Intelligence)
So far, mostly large companies can afford to develop mobile applications with artificial intelligence implemented. By the end of 2018, that will change.
AI can be used in many different industries from the financial sector (money transfer, virtual assistants, verbal instructions), to the sectors which would like more personal experience for users. You can see a list of eight apps that use AI for more personalized approach on MultiDots.
Machine Learning as a subfield of AI is also the future of mobile app development. Some of the examples are Netflix that uses algorithms adapting to user behavior to provide them with personalized content. Tinder, for example, uses machine learning to increase a user's chances to find a match. Google Maps is making the process of choosing a parking spot easier thanks to machine learning appliance.
3. AR (Augmented Reality) and VR (Virtual Reality)
The traditional games and regular applications are completely changed with help of AR and VR.
Leading companies such as Apple and Google have launched their own augmented reality kits- AR Kit and AR Core resp to help app developers to create high-quality mobile apps.
AR is something that is usually connected to fun (we all remember Pokemon Go euphoria) but it can be used for more practical tasks, too. One of the examples can be Google Translate — with an AR feature, it allows you to launch a camera mode within the software and snap a photo of a text you don't understand. After that, it uses the tech to try and translate the printed lines. Another example is IKEA catalog, where you can look through different pages and that way see their offer.
On the world's largest annual consumer technology show (CES) AR is highlighted as something to watch. Various industries confirmed this- from construction to IoT.
As for the VR, the latest buzzword associated with it is v-commerce and with v-commerce, there's a chance of rattling the entire e-commerce field. Consumers will be in a position to test out clothes, gear, and a lot of different products before purchasing. One of the examples is Alibaba, that in November of 2016 introduced VR shopping to its customers across China.
4.Blockchain
When speaking about the blockchain, it is so much more than just the technology behind cryptocurrencies. A digital account book of economic transactions that can be programmed to record not only financial transactions but practically everything of value. Blockchain can add value in many ways in which we currently go about our lives and do business.
The uses of Blockchain are practically endless, from the obvious such as financial and security to manufacturing. It has proven to be something worth implementing to improve the tracking of items, security level and quality control. You can use it in exchanging market, e-commerce, as a digital wallet, tracking and smart contracting.
When you're using native mobile apps on the Blockchain, take advantage of specific features of the platform- there's no need to depend on generic web browsers. Also, you can create an optimized user experience.
5.Cloud-based apps
Various advantages are attached to a cloud technology- reduced hosting and operational cost, seamless performance, scalable infrastructure, expandable storage, and increased productivity. These types of mobile apps reduce the load on the internal memory by fetching the data from the cloud. Therefore this can be beneficial for app developers and business owners.
According to Forbes, the total global public cloud market will grow to $178 billion in 2018 (up from $146 billion in 2017). Furthermore, it will continue to grow at a 22 percent compound annual growth rate (CAGR).
Microsoft Azure, Amazon Web Services (AWS) and Google are supposed to capture 76 percent of all cloud platform revenue in 2018, and 80 percent by 2020.
In real life application, it's mostly about not impacting your devices' internal memory. That's why Dropbox, Google Drive, Box, and other similar apps are becoming hugely popular. Also, cloud equals saving money and safety, as well as a lot more computing power compared to traditional solutions.