Keeping healthy isn't just about staying active, eating a balanced diet and having regular health check-ups. It's about what you do every single day, from when you wake up to when you go to bed. It's about the environment that you live in, and the daily routines that you probably don't think twice about.
The good news is that as technology begins to infiltrate every aspect of our lives, it's becoming easier and easier to optimise our living spaces and daily rituals to ensure that everything works towards the same goal: ensuring you – and your family – can live happy, healthy, long, independent and fulfilled lives.
From existing gadgets to future technology, discover how the homes of the future are going to keep you healthier than ever.
In the bathroom 
Mirror that assesses health
Although currently we're all looking at wearables, Robert McFarlane, technology expert and head of labs at digital agency Head, believes the next generation of analytic technology will require minimal input from us, but instead will capitalise on things we already do daily.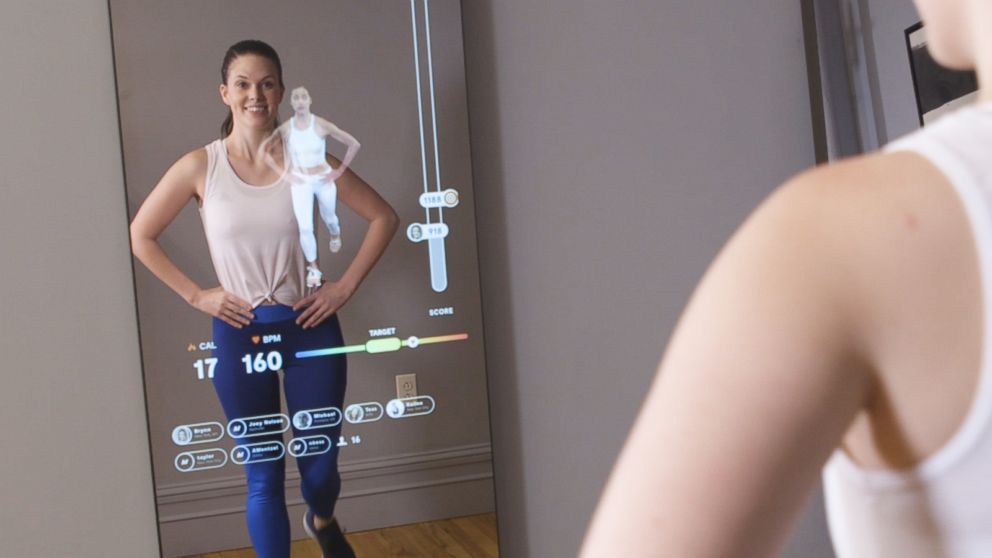 Face time: one day bathroom mirrors could be used to assess your state of health
"In the future your bathroom mirror could do a mini health check on you," he says. "It could use facial recognition technology to pick up subtle cues about your mental state, while simultaneously measuring your breathing rate and levels of oxygen in your blood. It's not inconceivable that it could advise you what skincare to use that day based on what your skin looks like, and also assess your body shape and make health recommendations."
Scales that know how fit you are 
Weighing in: scales can collect a wealth of data and build up a health profile
Taking wearables and trackers to the next level, the latest Philips personal health programs use joined-up thinking to unite a number of variables. These Philips Body Analysis scales not only track your weight, but also analyse your body fat percentage and body mass index, while regular temperature and blood pressure readings from the Philips Thermometer and wrist monitor track other aspects of health.
All this feeds into the HealthSuite app and, together with the data that your Philips Health Watch is picking up – your vital signs including continuous heart rate monitoring, your levels of activity, nutrition and sleep patterns – gives you a complete picture of your health, where things aren't quite working, and what you need to do to fix them.
Registered as medical devices, they can help individuals achieve personal health goals and are for people who are at risk of specific conditions and want to do something about it, such as lose weight or lower blood pressure and cholesterol levels.
Smart toothbrush that talks to your dentist 
Good vibrations: the new generation of toothbrushes can send data to your dentist
The latest technology in electrical toothbrushes, such as the Philips Sonicare, connects sensors in the brush head with an app on your phone, giving you personalised, real-time feedback on your brushing technique. The Smart Sensors can track everything from whether you're missing areas to whether you're brushing too hard and risking gum damage. The app lets you track your progress, share the information with your dentist, and can even tell you when you need to change your brush head.
For those who know they should floss but don't do it regularly, there's the Airfloss — rather like a jet wash for the areas in between your teeth that brushing doesn't always manage to clean perfectly. A reservoir is filled with water or mouthwash and the targeted tip positioned between the teeth, before a burst of air and water blasts away plaque. Proven to remove five times more plaque than when brushing with a manual toothbrush alone, it takes just 30 seconds and has been shown to improve gum health in just two weeks.
Tongue cleaning is an important part of oral care – 80 per cent of bad breath comes from odour-producing bacteria on the tongue – so Philips designed a special tongue brush and spray for use with a Sonicare toothbrush to ensure super fresh breath. And to check it's working, Breath Care will be available from your dentist in 2017. This portable breath analyser measures bacterial by-products in the mouth and then sends the information via Bluetooth to an app that displays the results and offers advice.
Toilet that can analyse its contents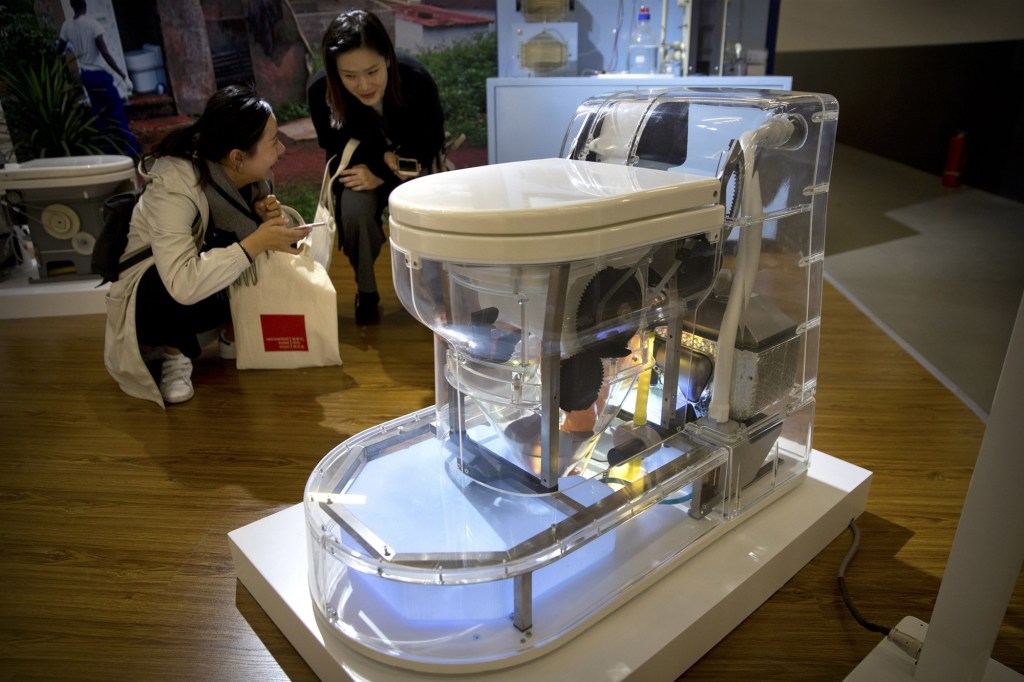 Domestic monitor: the lavatory of the future will give early warnings of changing health
"We're already at a point where many of us are measuring and recording a number of our health variables," says technology futurologist Dr Peter Cochrane. "Eventually everything that goes into our bodies will be analysed for its nutritional content and calorific value. How we expend those calories will also be tracked and, naturally, what comes out will also be analysed.
"Not only will this give a complete picture of how well our bodies are functioning, it will guide us in what we eat and how we live. But if you think about how many conditions are diagnosed using a urine or stool test, we could get early warnings about UTIs [urinary tract infections] and pregnancy through to gut bacteria imbalances."
Kids' toothbrush that encourages better brushing 
Child's play: toothbrushing with a fun app can help to instil a dental care routine
Aiming to make toothbrushing less of a battle, Philips has come up with the Sonicare for Kids, a toothbrush that uses all of Sonicare's cutting-edge technology in conjunction with a connected app that encourages children with their daily brushing routine.
A character called Sparkly helps make the app an engaging and interactive experience that feeds into a 90-day coaching programme to help children develop healthy habits that will last a lifetime. Of parents who used the toothbrush and app for their children, 98 per cent said it was easier than ever to get kids to brush better, and for longer.
In the bedroom 
Air purifier that can screen out viruses
Allergens, bacteria and viruses present in the home can lead to health issues, which is why the newest generation of domestic air purifiers use professional-grade sensors to monitor levels of particles in the air and automatically adjust to ensure that air cleanliness is maintained.
Clean sweep: purifiers can transform air quality by filtering out harmful particles and bugs
Depending on your needs, you can set the Philips Air Purifier 2000 to general, allergen, or bacteria and virus, safe in the knowledge that it can filter out particles that are 2,500 times smaller than the diameter of a human hair, as well as up to 99.9 per cent of airborne viruses and bacteria.
Breathing mask that tracks your sleep patterns 
Rest assured: advanced breathing hardware and software can reduce snoring and improve sleep quality
Obstructive sleep apnoea (OSA) is a condition in which the walls of the throat relax and narrow during sleep, interrupting normal breathing, often resulting in snoring and broken sleep. Masks attached to machines that deliver pressurised air to prevent the airway closing have been around for a while, but the super lightweight DreamWear is far less obtrusive, and allows more flexible sleeping positions than traditional masks.
It works with the DreamStation machine that in turn connects wirelessly to the DreamMapper app, allowing patients to track therapy usage, so they can see how they are progressing – and share the information with their sleep doctor.
Baby monitor that keeps an eye on health
Cot comfort: the latest tech allows many aspects of your infant's well-being to be monitored
For years parents have been tracking their babies' health and activity, but the latest technologies allow you to connect multiple aspects of your child's care with a smart baby monitor and ear thermometer connected to the uGrow mobile phone app, helping you to identify patterns and problems.
For a more comprehensive approach to childcare, the Philips Hue light system and Air Purifier 1000i series can now also connect to the app, helping you to minutely adjust the light to create a soothing environment, and constantly check the quality of air in your baby's room.
Care of the elderly 
Pendant that automatically alerts caregivers if you fall
Encouraging independence with peace of mind – for both the individual and their family – is the thinking behind the Philips HomeSafe Auto Alert System, which uses a waterproof help button pendant that automatically triggers the alarm if it senses a fall, but can also be user activated.
Fall call: the latest pendants automatically send out alerts in the event of an emergency
Once activated, this sets up two-way communication with the helpline via a speakerphone. A complementary system called CareSensus will also soon be available that uses movement sensors around the home to track activity and behaviour, including eating, sleeping, and entering and leaving the house. Smart analytics identify any abnormal behaviour and care staff can be contacted for video calls via a tablet interface.
Pill bottle that senses when it's used 
Half of medication for chronic illness is not taken as prescribed. It is a problem that costs the NHS more than £150 million a year and risks patients' health – but has proved hard to address, since complex regimes of pills can be a challenge for some patients, particularly the very elderly.
"We all know that medicines only work when you remember to take the right amount of them at the right time," says Dr Cochrane. "So 'smart' or connected medicine dispensers, which send reminders to your phone when you're meant to be taking your pills, can calculate how many you've taken and share this information with your doctor, could have a really positive impact on efficacy." This will benefit caregivers – but also worried relatives, wanting to know that Dad or Grandma is taking the pills they need.
Carebot that helps people stay independent
With an ageing population, it is becoming increasingly important to devise ways of ensuring that older people can live safely and independently for as long as possible. One of the biggest issues is often lack of mobility, with elderly people becoming unable to get themselves out of bed or move around.
In Japan, where 20 per cent of the population is over 65, they are looking to carebots – robots specifically designed to assist elderly people – to shoulder the burden. These carebots can range from life-sized humanoid bots that can lift patients, or help them walk, to furniture that transforms from a bed to a wheelchair, and mobile servants that can fetch and carry things from one room to another.
In the kitchen 
Molecular analyser that detects ingredients
"Technology that once used to take up entire rooms has been miniaturised so it's now possible to scan almost anything and find out about its molecular composition," says Dr Cochrane.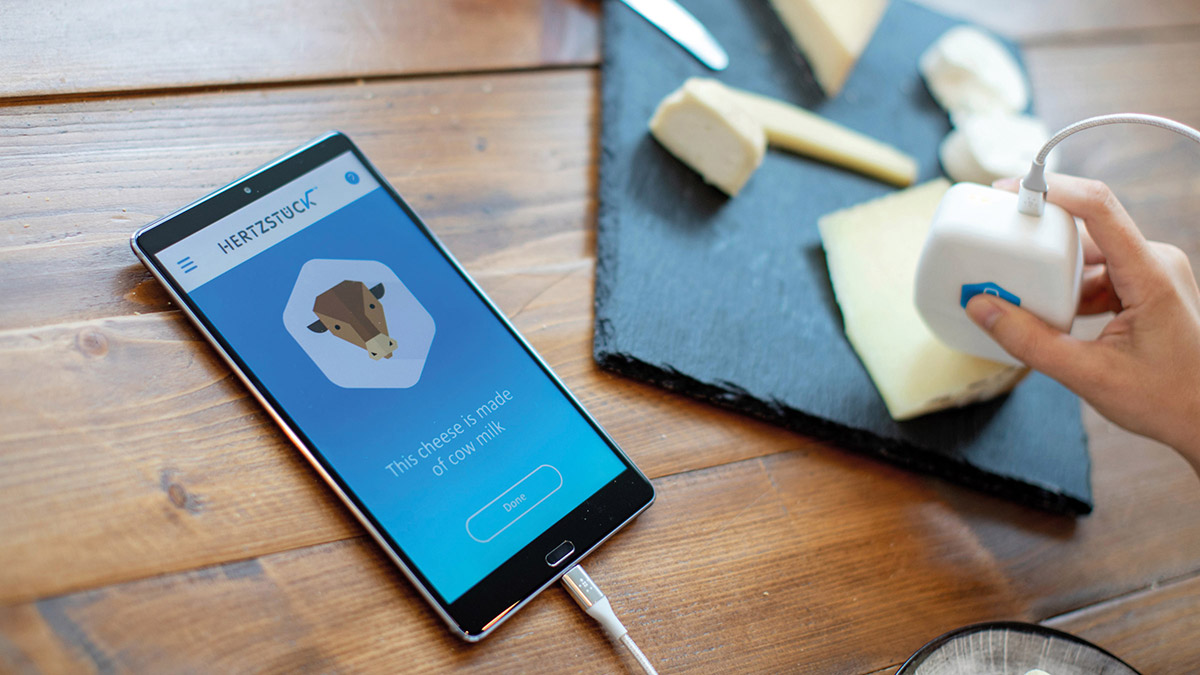 Core analysis: miniaturised tech can be used to test food for allergens and nutrients
"I can scan a biscuit to find out if it contains something I'm allergic to, scan an avocado to find out when it's ripe, or two apples to find out which one is sweeter. Technology like this is going to become more widespread, making it easier to make healthy choices about food, and to self-test our own body samples."
Fryers that need almost no oil 
Even the appliances in your kitchen now go the extra mile to keep you healthy. Take the Avance Collection Airfryer, which lets you prepare the food you love in a healthier way, with no compromise on taste. Requiring little or no added oil, it swirls hot air rapidly throughout the whole cooking basket, resulting in evenly cooked food with up to 80 per cent less fat than a conventional Philips fryer.
Then there is the Innergizer blender, designed to help you boost your intake of fruit and veg, with technology that helps ensure that you get as much nutrition as possible from your smoothie. And the Avance Centrifugal Juicer makes it even easier to make healthy, homemade juices, ensuring you get your five – and more – a day.
Fridge that keeps you healthy 
"Smart, internet-enabled fridges have been available for a few years," says Mr McFarlane. "But as time goes by they will become increasingly slick. Basically they're programmed to sense what kinds of products are being stored in them, and keep track of stock. This has been done in a number of ways, from barcode scanning to simply taking images of the products.
"In the future they should be able to send you alerts to let you know when food is going off, automatically order anything that is running low, suggest a nutritionally balanced meal based on what's inside, and even one that will sync perfectly with your levels of activity and weight-loss goals."
Family life 
Clever clothes that react to conditions
Dressing appropriately for the weather might not be a worry in the future as fabric technology improves. The fabric of the future could well have built-in features that allow it to respond to changes in the weather.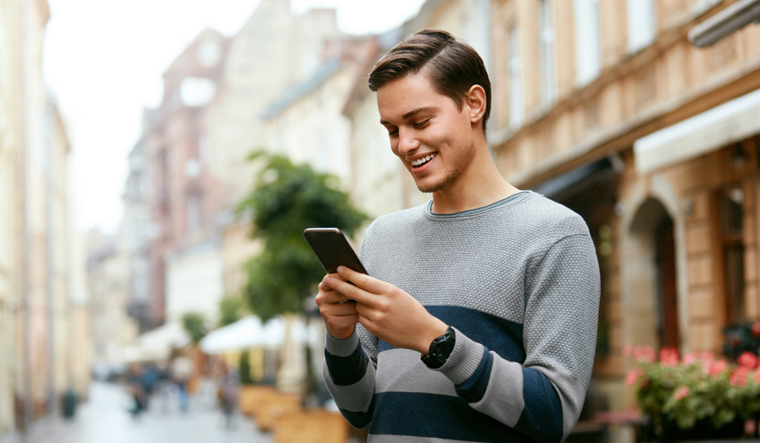 Dress sense: smart fabrics will be able to adjust to the changing weather
Imagine T-shirts that give increased UV protection as the sun gets stronger, or fabric that can keep you warm or cool by adjusting how much heat it lets out. Smart fabrics could also track your temperature and water loss, and even analyse your sweat or DNA to give early warning about medical conditions.
Emotionally intelligent TV and stereo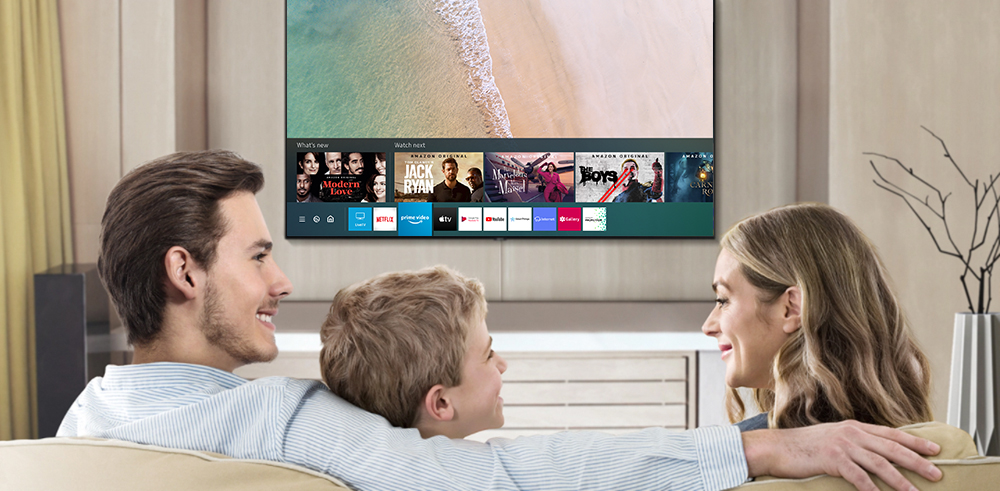 "In the future, every aspect of our lives will be trackable, quantifiable and assessable," says Dr Cochrane. "The number of hours that we spend watching TV and listening to music can be tracked – and crucially, exactly what we're listening to and watching and how it affects our emotional well-being."
From there it is not a huge step to imagine your entertainment system analysing your mood, asking how you want to feel and then choosing an appropriate film or piece of music.
Smoke detector that detects much more besides 
"Many homes already have smoke detectors and carbon monoxide monitors that can alert you if they detect dangerous levels of certain gases, but the newest technologies go a step further than that," says Mr McFarlane.
"They can let you know exactly where they detect a problem and notify you of, for example, pollen levels, if you suffer from hay fever, and even notify you of the forthcoming weather conditions so you can ensure that you dress appropriately that morning."